Kozo Nishino solo exhibition "Space Mamory" 
西野康造展『Space Mamory』お知らせ
Date: 2014.04.01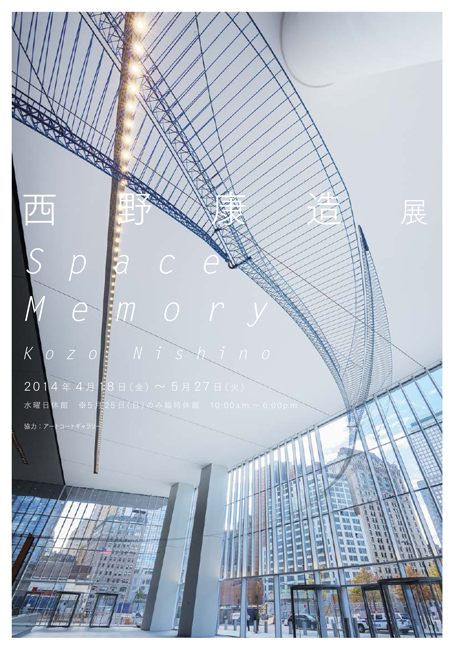 Kozo Nishino is pleased to announce a solo exhibition which is the first time in 14 years in Tokyo. Nishino's new work "Space Memory" of 5.9m diameter is planned to suit the space of the LIXIL GALLERY 2 as a venue. In the April 18 first day (from 18:00 at night), the event of Artist Talk by Nishino himself takes place.
【Exhibition】
Kozo Nishino: Space Memory
Duration: April 18 – May 27, 2014
Venue: LIXIL GALLERY 2, Tokyo
Opening hour: 10:00-18:00
Closed on Wedenesdays and May 25.
※Event
Artist talk by Kozo Nishino: April 18, 2014, 18:00-19:00
※LIXIL GALLERY 2
Access>> http://www1.lixil.co.jp/gallery/english/
——–
西野康造は、東京では14年ぶりとなる新作個展を開催します。会場となるLIXIL ギャラリー 2の空間に合わせて、直径5.9mの新作《Space Memory》を発表します。
初日4月18日[金]夜18時より、アーティスト・トークも行います。ぜひご高覧ください。
【展覧会概要】
西野康造 展 -Space Memory-
2014年4月18日[金]~5月27日[火]
10:00~18:00/*休館日:水曜、5月25日
@ LIXIL ギャラリー 2 (東京)

※アーティスト・トーク: 4月18日[金]18:00~19:00
http://www1.lixil.co.jp/gallery/contemporary/detail/d_002807.html
※プレスリリース(Japanese only)
http://www1.lixil.co.jp/gallery/contemporary/user_images/2014_04nishino.pdf